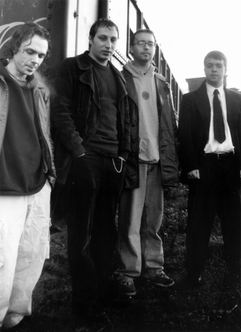 Jay Dunphy: Lead Vocals/Guitar
David Chenery: Lead Vocals/Guitar
Matt Bigelow: Drums/Percussion
Ryan Steele: Background Vocals/Bass
Formed in 2001, The Moonshine Revellers entertained Victoria audiences with their distinctive brand of folk-rock until the dissolution of the band in 2003. They released one album, ...and shades of night, shortly before breaking up. They were featured twice on The New VI, performing live in the studio in July 2002 and having their CD release party aired live in December. Additional media appearances include a spot on The Daily in 2001, articles in Victoria News and UVic student newspaper The Martlet, and appearances on UVic radio station CFUV 101.9 FM.
Jay went on to record two albums with Jay Dunphy and the Religion, has recently released a solo album, and continues to perform locally. David has released two albums with his band, The Lonesome Valley Singers. Ryan currently plays bass in a group called Just Atoms. Matt lent his talents to World's Fattest Racehorse and Semi-Louise before his mysterious disappearance in the summer of 2006. Rumours of his relocation to Japan to teach English are mostly unfounded.